Special offer for Productive! Magazine readers
As a Productive! Magazine reader you can buy the book by Joost Wouters "The 15-Minute Inbox: Control Email. Create Time. Lead Your Business." with 50% discount and get the audiobook for free.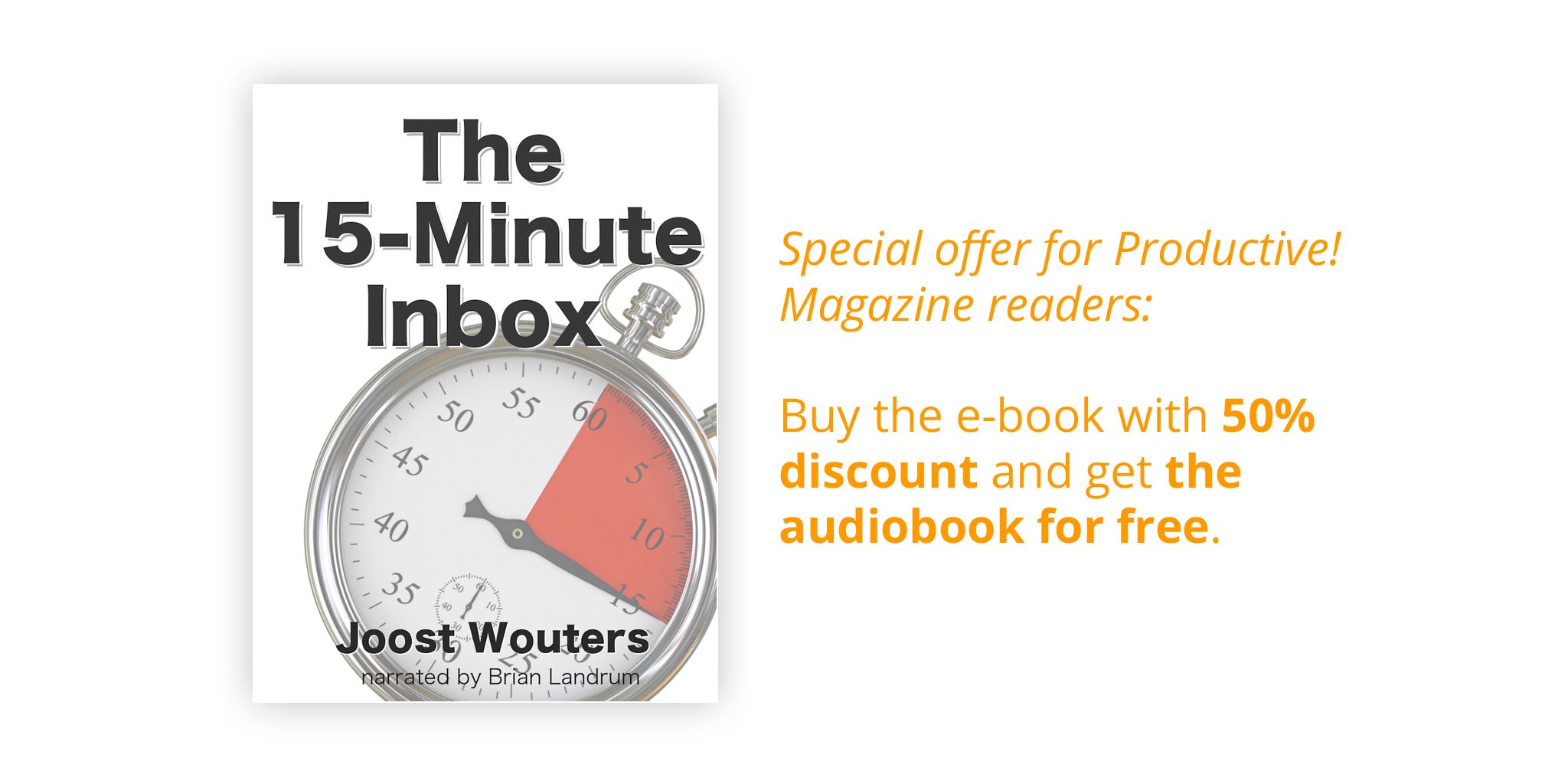 Buy the e-book for only 4.99 EUR (approx: $6.79) (regular price: 9.99 EUR) and get the free downloadable Audiobook (value 14.99 EUR, approx. $20)
You can buy the book+audiobook bundle onilne. We'll send your bundle within max 24 hours.
Don't miss the chance - spend 4.99 EURO and earn hours! Start controlling your e-mail inbox and become productivity ninja.
About the book
In The 15-Minute Inbox, international business consultant, Joost Wouters, offers a solution to control your email, create time and spend it instead on activities that really matter.
More than a quick fix or another "how-to" guide, "The 15-Minute Inbox" offers a simple yet powerful approach for everyone who prefers to be a proactive business builder instead of a reactive fire fighter.
With the introduction of the four M.A.I.L. steps, Joost has created a complete process that will guide you in your journey towards mastering your inbox.
You will look at the mindsets and habits you need to change to get your inbox under control in 15 minutes or less.
You will find ways to automate a big chunk of your email management and apply the limited actions that are possible to treat each email.
You will set up a structure that will help you to implement the new behavior and integrate it in your daily work.
And most importantly, you will create clarity about what you will do with all the additional time you have created and on what activities and projects you should spend it instead.