You will soon get the chance to read the summer edition of Producitve! Magazine. While we put the finishing touches on the issue, read what we have got for you this time.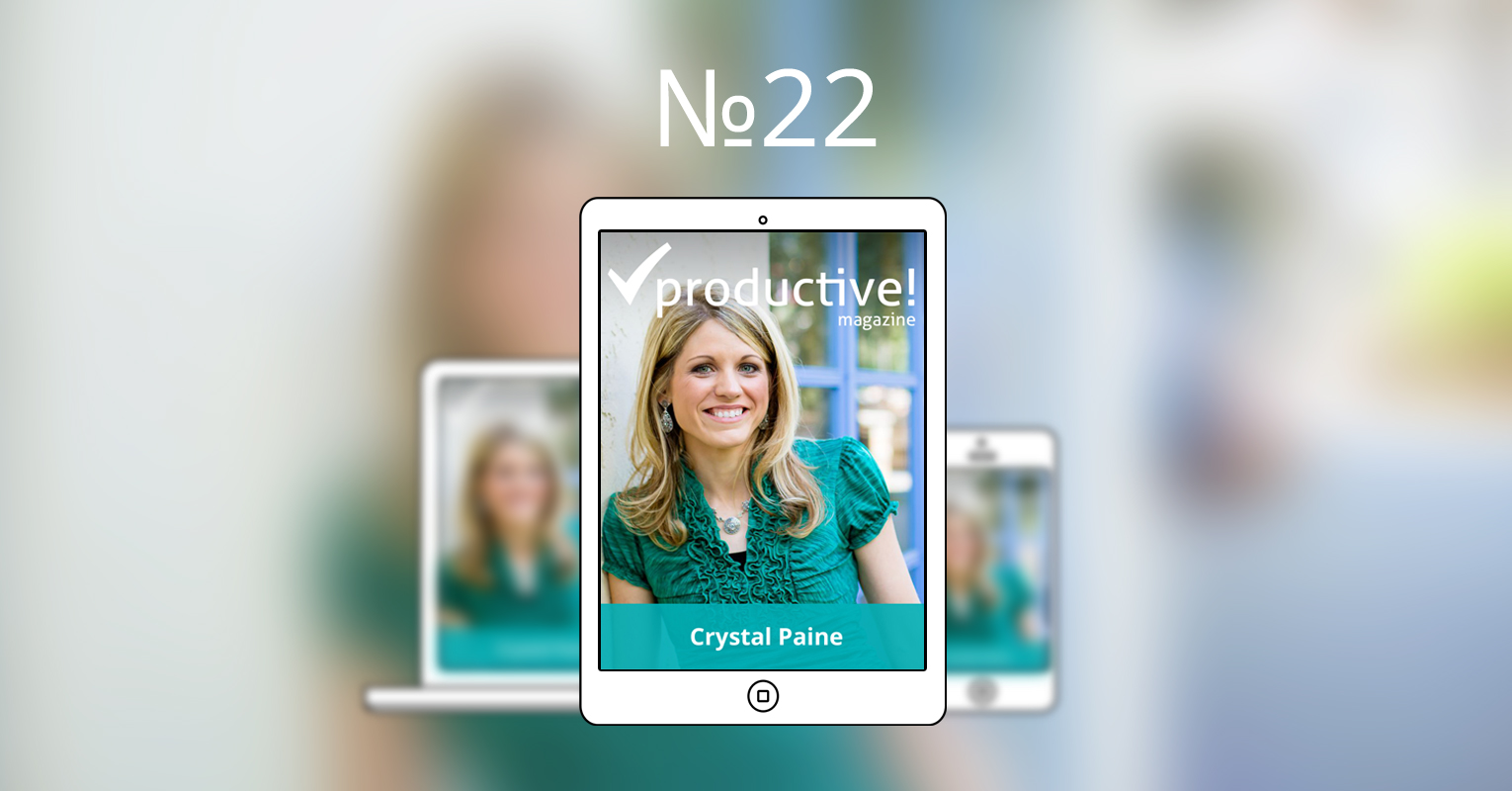 Exclusive interview with Crystal Paine of MoneySavingMom.com
Crystal Paine, the founder of MoneySavingMom.com (top personal finance blog with 1.5 million visitors per month), tells how to gain fulfillment and peace that stems from keeping life simple and planned. She explains why intentional money-spending and setting strict money-related rules is worth investing the time and how to learn to say "no".
"I encourage people to think about opportunities. Think about your expenditures, think about everything before you just spend the money and say "yes". Really stop and consider: is this wise? Do I have time for this? Do I have money for this? Am I going to regret this in three or six months from now?"
Practical clues for better life
Lory Fischler of Leadership Development Services explains what to do if you feel like your career is stalled and your current assignments have lost their appeal?
"Those who engage in mentoring relationships are less stressed, learn more quickly, increase their productivity, and create safety nets for themselves. They make better decisions about their careers and are adept at finding the right mentor to help them navigate their organization."
Andrzej Bernardyn, blogger and coach, questions "Eat that frog" rule by encouraging to eat some tadpoles first.
"We are only humans and if something scares us, we would find numerous excuses in order not to tackle the hard thing."
Graham Allcott, the founder of Think Productive, presents a fantastic case study of introducing a 4-day working week in his organization. See yourself that it is not about how much time but how effective you work.
"4-day week puts the 'balance' and the 'life' back into the over-used phrase 'work/life balance'."
Sara Caputo of Radiant Organizing shows the best way to improve your productivity and advance your career. It's about sleeping your way to the top! That's right - literally :).
"While most adults have sleep habits pretty well hardwired into their life, small changes and shifts can bring about big results. Tonight, I encourage you to do just one thing differently and see how it helps your efficiency and productivity in all areas of your life."
Gonçalo Gil Mata, the founder of MIND4TIME, proposes three major specific features you should address when building and fine-tuning your personal productivity system.
"Remember: responding immediately rarely means you are being productive. Emergencies shouldn't be mixed in crowded channels like email."
Productive Superdad - Timo Kiander, answers a simple question: How to spend more time with your family and not decrease your performance at work. Would you like to give your beloved ones more time? REad the article.
"Remember that every new commitment consumes your time, and eventually, it will come to reduce available time you have for your family."
If you've ever worked for a large organization - says Laura Stack of The Productivity Pro®, Inc. - then you know your co-workers don't really care about your productivity. Check out the guidelines for leaders who need to protect their team members and themselves from predatory behavior.
"We've all encountered hidebound "dinosaur brains" who block us for petty reasons. Find ways to go around them to do what's best for the team. But be careful: some bottlenecks may feel threatened if you do so too overtly."
Please, help us grow
Which article do you like most? Why don't you share it with your friends and colleagues — it might help them get more productive, less stressed and simply happier! We will be most grateful if you follow us on Twitter and like Productive! Magazine on Facebook
Thank you!
P.S. The proud sponsor of the Productive! Magazine is Nozbe.
Posted on Wednesday, August 6, 2014