We have just published a new issue of Productive! Magazine featuring:
Pat Flynn — a beloved thought leader in the areas of online entrepreneurship and passive income
plus
nine practical articles helping you get closer to a systematic and productive workflow and satisfying life.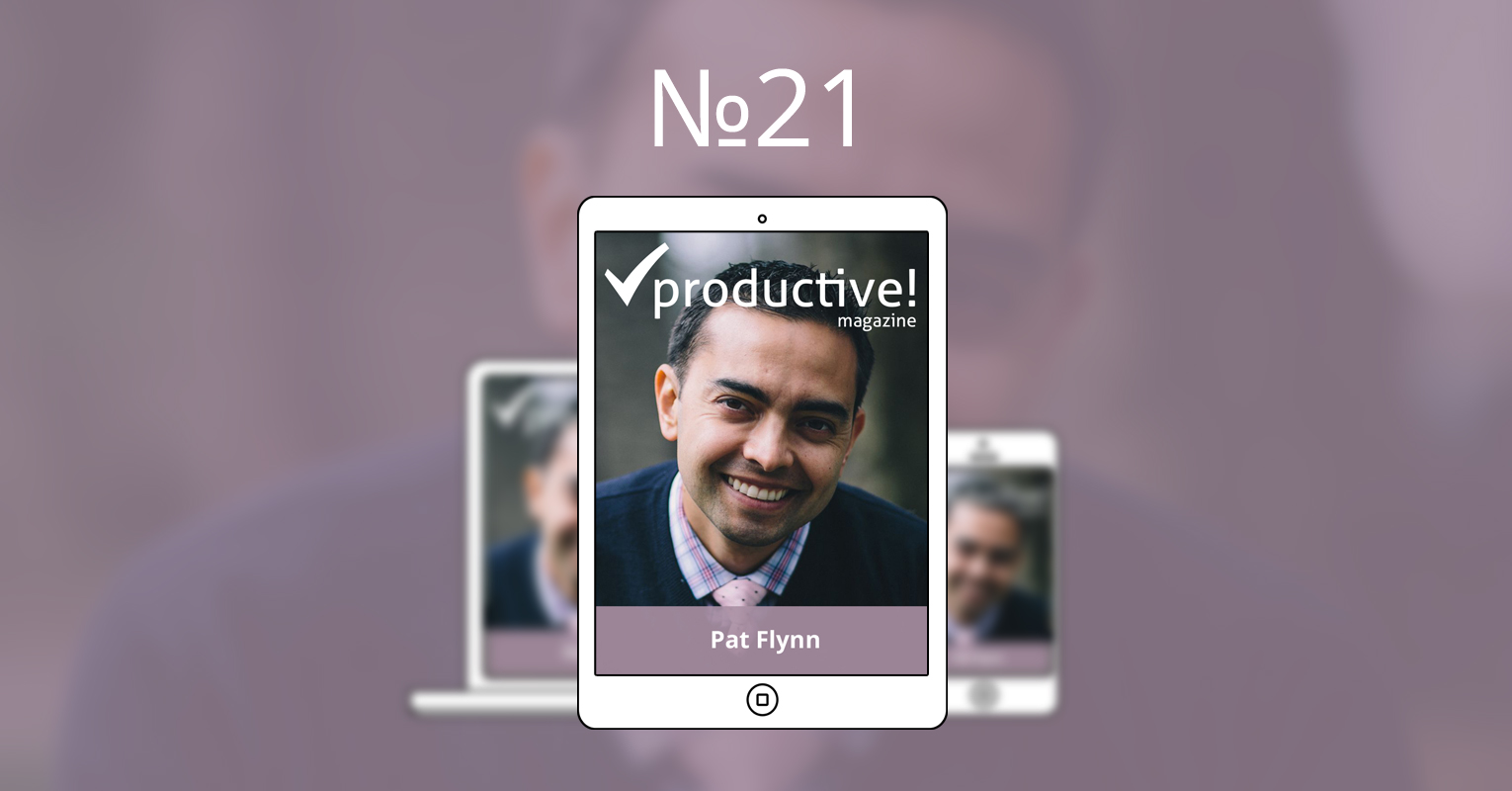 Read the new edition as you like.
Productive! Magazine is a free, monthly doze of inspiration and evergreen productivity tips you shouldn't miss. You can take advantage of all these in your preferred way:
Read it on-line
Read it on your iPhone or iPad
Read it on your Android device
Inside the June issue
Interview with Pat Flynn — a serial entrepreneur for whom getting laid off was the best thing that ever happened to him. Only then did he found out how to run business and earn money and be able to spend the majority of time with his family and on the stuff he likes.
Watch or read the interview to learn Pat's story, Pat's strategies and methods.
"The passive income part was very much inspired by Tim Ferris's The 4-Hour Workweek and his ability to put systems and automation into his businesses. The idea is that you don't have to be present in order for transactions to happen."


Sara Caputo wrote a list of five differences between average and uber-productive people. You can hang this list on the fridge door and try to tick off from top to bottom within a year or so. I am sure you can make it.
Kosio Angelov teaches how to effortlessly form new healthy habits and stick to them using his "Habit Formation Trifecta" system.
As a Productivity Ninja, a coach and "time management" author, Grace Marshall reveals a time management's guilty secret and shows how to prevent the constant guilt from stealing your precious time and strength.
"Prowling in the pressure of trying to keep on top of everything is the worry of letting someone down, the struggle of trying - and failing - to please everyone and get everything done."


Les Taylor prepared a catalog of attributes and skills that are key to being a high performer in any organization and Gonçalo Gil Mata presents his first article of series on building your reliable, performance-boosting personal productivity system.
Have you experienced the burning excitement of a new goal and the inspiration that follows by finally deciding to make a change? And once started working on it and having even gained some serious momentum your inspiration wore off? Patrik Edblad shows you how to stay motivated by leveraging small wins.
"Big goals are great but only for planning your progress. To actually make progress, you need to fall in love with the everyday grind of pursuing your goal. If you don't, it will quickly turn into a huge burden on your shoulders and a haunting reminder of what you couldn't achieve."
You will also read Laura Stack's guide to reducing inefficiencies and breaking bottlenecks and Marcus Platt's little reference guide to Nozbe.
Would you like a sticker for your Apple device?
In the Productive! Show section in the magazine, you can watch how I've decorated my MacBook Pro with custom Nozbe sticker designed to fit the Apple computer.
You can also buy yourself one — go tu MakeItStick and use "nozbe" promo code during the checkout process to get the 10% discount on everything :)
Please, help us grow
Which article do you like most? Surely one of the columns has made you think, analyze, revise your attitude or habits. Why don't you share it with your friends and colleagues — it might help them get more productive, less stressed and simply happier!
Thank you!
P.S. The proud sponsor of the Productive! Magazine is Nozbe.
<
p class="date" markdown=1>Posted on Friday, June 27, 2014
<
p>